AAUW Tarrant County raises funds for three local scholarships at Tarrant County College, the national AAUW Education Fund fellowships and grants, the national AAUW Legal Advocacy Fund, and our Sister-to-Sister Middle School  Girls Mentoring Summit.
SPRING 2019 FUNDRAISER
 
March 2019 AAUW Fundraiser
Get Ready for a great AAUW project!  On March 1, 2, 3, 2019, we will have a booth at the Antique Show at Will Rogers, selling gently used accessories (purses, scarves, hats, gloves, even antiques!) so keep that in mind when you clean your closets or go to your favorite estate sale.  We need a lot of merchandise for a three-day sale!
What's the Booth with All the Bargains?
---
FALL 2018 FUNDRAISER
NORTH TEXAS GIVING DAY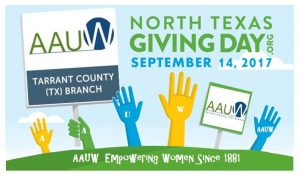 Members and friends were invited to participate in the annual North Texas Giving Day and donate to "AAUW Tarrant County Branch". This is our branch's fall fundraiser. Thursday, September 20, 2018.
Our fundraising goal is $5,000. Want to serve as an anonymous match donor for all donations of $25 or more up to $3000? Contact Barbra Cager bcager@sbcglobal.net for more information about giving to AAUW Tarrant County during North Texas Giving Day!.
https://www.northtexasgivingday.org/aauw-tarrant-county-branch 
---
Contribute to AAUW Tarrant County every time you make an Amazon purchase, without any extra cost to you! Have your Amazon password ready before you start.

Setup to use Amazon Smile:
1. Start from this Link – https://smile.amazon.com/ch/75-1510954
2. This takes you directly to the Amazon Smile webpage with our charity filled in.
3. Once there, enter your Amazon email and password. "Aauw Tarrant County Branch" should already be filled in as the charity. You can then proceed to shopping.
4. Each time thereafter when you shop on Amazon, you must always start at https://smile.amazon.com  in order to support Aauw Tarrant County Branch.

Tom Thumb Good Neighbor Program
If you have not enrolled yet, click here to access the form. Print a copy and the next time you shop at Tom Thumb use Charity # 5773 for our Tarrant County Branch AAUW to receive a donation.