AAUW TARRANT COUNTY – PUBLIC POLICY COMMITTEE – Come and Join Us!
If you are interested in joining a conversation about the leading women's issues of the day come join a group of like-minded members. The AAUW-TCB Public Policy Committee (PPC) will investigate current issues and conduct one project a year to promote public support on one of those issues. Change happens when individuals get involved and get connected. The Committee is connected to the Collaborative Connection–an alliance of nonprofits who are planning to make a difference. Interested?  Come see what it's about.
UPCOMING PROJECTS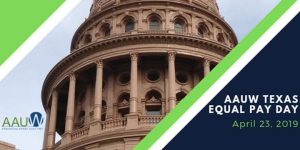 AAUW Texas Equal Pay Day – State Capitol
Fort Worth Mayoral Candidate Forum
Please email Susan Brinkley to join a Team of activists who seek fun ways to raise awareness about the serious need for change in Texas public policy.
Past Projects Included:
Title IX work with local ISDs