AAUW Tarrant County Branch will be holding all events via Zoom for the remainder of the year, through May, 2020.  
Next Monthly Event: 

Members are invited to the

May 20 Installation and Celebration Branch Meeting via Zoom.

   Details to follow.
"If you choose to use your status and influence to raise your voice on behalf of those who have no voice; if you choose to identify not only with the powerful, but with the powerless; if you retain the ability to imagine yourself into the lives of those who do not have your advantages, then it will not only be your proud families who celebrate your existence, but thousands and millions of people whose reality you have helped change. We do not need magic to change the world, we carry all the power we need inside ourselves already: we have the power to imagine better. "  
   —  JK Rowlings, 2008 Harvard Commencement Speech
AAUW's Mission
To advance gender equity for women and girls through research, education, and advocacy.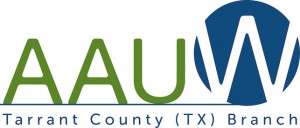 Interested in learning more about membership?
AAUW Tarrant County Branch advances equity for women and girls through:
Offering a place for Women to join in the work to Advance Equity for Women and Girls through:
Interested in learning more about membership?
American Association of University Women
1310 L St. NW, Suite 1000
Washington, D.C. 20005
800-326-2289 (10:00 am to 5:00 pm EST)
202-785-7700 (8:30 am to 5:00 pm EST)
email:  connect@aauw.org
website: https://www.aauw.org/