¡Adelante! Book Club. Twenty-one years ago the ¡Adelante! Book of the Month Club was created by national: to spotlight engrossing stories and writing by women from all backgrounds. This nation-wide AAUW community program is dedicated to exploring new ideas and perspectives, and talking about issues of social justice related to the monthly book selection.  The local group meets monthly on the third Monday.  The group meets at 10 am in member's homes, with refreshments followed by the discussion.  Contact Leader Tina Caliga for more information and to RSVP for a meeting. 2017-18 Adelante Book
Next Meting Date: October 15, 2018
Month: National Disability Employment Awareness Month.
Book: Wonder, 2013, by P. J. Palacio
Host: Eileen Frey. Please email Eileen if you can attend at epfrey@gmail.com. Her phone number is 443-504-8788.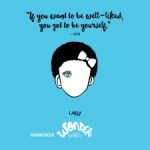 Future Meeting Dates:
Date
Hostess Name
Book
Discussion Leader
Refreshments
September 17
Tina Caliga
The Distance Between Us by Reyna Grande
Randi Thistlethwaite
Tina Caliga

Peggy Harwood

Orlew Lauger

October 15
Eileen Frey
Wonder by P. J. Palacio
Eileen Frey
Eileen Frey

Sue Catterton

November 19
Orlew Lauger
The Four Sacred Gifts  by Dr. Anita L. Sanchez
Susan Davis
Berry Bock
December 17
My Kitchen Year by Ruth Reichl
Tina Caliga
January 21
Gloria Long
Educated:  A Memoir by Tara Westover
Orlew Lauger
Cheri Poston
Learn about AAUW Tarrant County Branch's other Interest Groups.